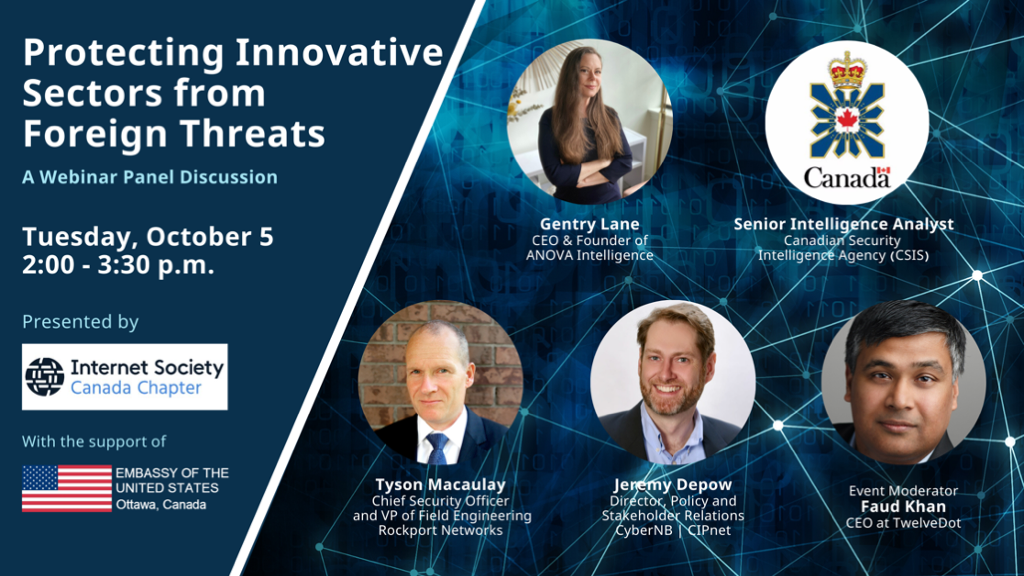 Webinar Follow-Up: Protecting Innovative Sectors from Foreign Threats
It was a great privilege to part of this group and lead the discussion. While our discussion was only the beginning, organizations have to wake up to the fact that they are under attack for IP they have or have access to. While they might not be able to see this impact everyday it does exist and the attack surface can be devices or relationship based. As a business executive, educate yourself on how your organization might be targeted and what mitigations you can put in place to minimize the attack surface. Training and awareness for your staff, will be at the core of any program you develop. If you were unable to make the recent Internet Society – Canada Chapter Webinar here are some further details that might be of interest.
Here is the list  our distinguished panelist:
Gentry Lane – CEO and Founder, ANOVA Intelligence
Tyson Macaulay – Chief Security Officer and VP of Field Engineering @ Rockport Networks
Jeremy Depow – Director, Policy and Stakeholder Relations CyberNB
Mary Anne – Intelligence Officer, Canadian Security Intelligence Agency (CSIS)
Here is the link the video:
I have also included links to resources provided by Gentry Lane, CEO & Founder, Anova Intelligence.
https://admin.govexec.com/media/diux_chinatechnologytransferstudy_jan_2018_(1).pdf
https://www.hsdl.org/?view&did=812268
For anyone who is part of a startup or even considering one, this book is a must read:
https://startupsecure.io/